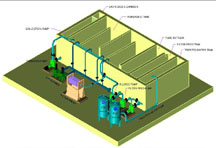 Unitech Water Technologies Pvt. Ltd.
having several years of experience in the industry and thorough knowledge was established with an intention to provide most optimum solutions to customer. UWT intends to develop itself as a leading "
Total Environmental Management Company
" providing solution to any kind of complex pollution problem.
UWT's team of engineer comprising of chemical, civil, mechanical, electrical and instrumentation have conceptualized and solved many of the most complex problems of the industries. UWT offer turnkey solution as well as supplies a wide range of tailor-made pollution control equipments to suit the clients needs for compliance to the most stringent effluent discharge that specified by the pollution control authorities.
The main area of operation includes design & engineering, execution of project and manufacturing of equipments/systems for treatment of water & wastewater including its reuse. A wide range of process as well as equipment/system choice is available to enable custom design of system to meet individual's needs in the area.
Our Main Solutions are : STP, ETP, WTP Services in Kolkata
STP or Sewage treatment, or domestic wastewater treatment, is the process of removing contaminants from wastewater, both runoff (effluents) and domestic. It includes physical, chemical and biological processes to remove physical, chemical and biological contaminants. Its objective is to produce a waste stream (or treated effluent) and a solid waste or sludge suitable for discharge or reuse back into the environment...
The ETP or effluent treatment plants are designed by a team of renowned engineers and scientists at Unitechwater who've specialized in waste water management. Therefore taking in all the problems faced by current efforts to treat waste water. They've come up with solutions that are on the cutting edge of recycling water...
The WTP or Water Treatment plant applies Physical and chemical processes for making water suitable for human consumption and other purposes. Drinking water must be bacteriologically safe, free from toxic or harmful chemicals or substances, and comparatively free of turbidity, color, and taste-producing substances....
Our Main Speciality Areas :
Housing & Residential Complex
Hotel Industry
Resorts, clubs & Spas
Commercial Complexes & Shopping Malls

Hospitals

Manufacturing and Process Industries